AbBaltis – Biotechnology internship in a pandemic
Paige Policelli, a PhD student from the University of Kent, took on an EIRA internship with AbBaltis, who serve the in vitro diagnostics and biotech markets by offering innovative, reliable and quality biologically-based products for their clients.
AbBaltis supplies disease state human plasma and serum to in vitro diagnostic research and biotech facilities worldwide, fundamental for the understanding of viral, allergen and autoimmune disease. Based in Kent, the company took part in EIRA's Innovation Internship scheme in 2020 and hosted a Biotechnology internship for PhD student Paige Policelli.
The Challenge
The SARS-CoV-2 virus responsible for the Covid-19 pandemic spiked demand for IgM (early infection) and IgG (developed infection) antibodies in order to understand the human immunological response to Covid-19 and consequently develop vaccinations. In response, AbBaltis began testing all of their current stock in the hope of sourcing these incredibly research-valuable antibodies, as well as positive samples potentially containing the virus itself. As a keen, newly graduated biochemist, Paige knew that she could use her skills and intellect to contribute against Covid-19 by supporting AbBaltis in this work.
The Approach
AbBaltis responded early to the pandemic by designing unique in-house enzyme-linked immunosorbent assay (ELISAs) to increase the reliability of positive IgG and IgM SARS-CoV-2 raised antibodies, using HCOV 229e and NL63 proteins. In addition, many manufactured ELISA tests were conducted using SARS-CoV-2 S1 spike glycoproteins and nucleoproteins to assess the best testing method, including the trial of an automated ELISA system to increase testing output.
AbBaltis supplies many viral, autoimmune and allergen positive samples, other than SARS-CoV-2. This meant that Paige was able to lend an extra hand to keep on top of the routine testing, but that she could also learn how to conduct a vast range of other immunological tests:
Line Blots – To detect abnormal levels of IgE antibodies raised against a variety of allergens. Paige was very excited to discover a long awaited amoxicilloyl positive donor (a rare antibiotic allergy) that will contribute massively into the research of unique antibiotic allergies. From the photo below, Paige points out that each purple line represents IgE against an allergen (the darker the line, the more severe the allergic response).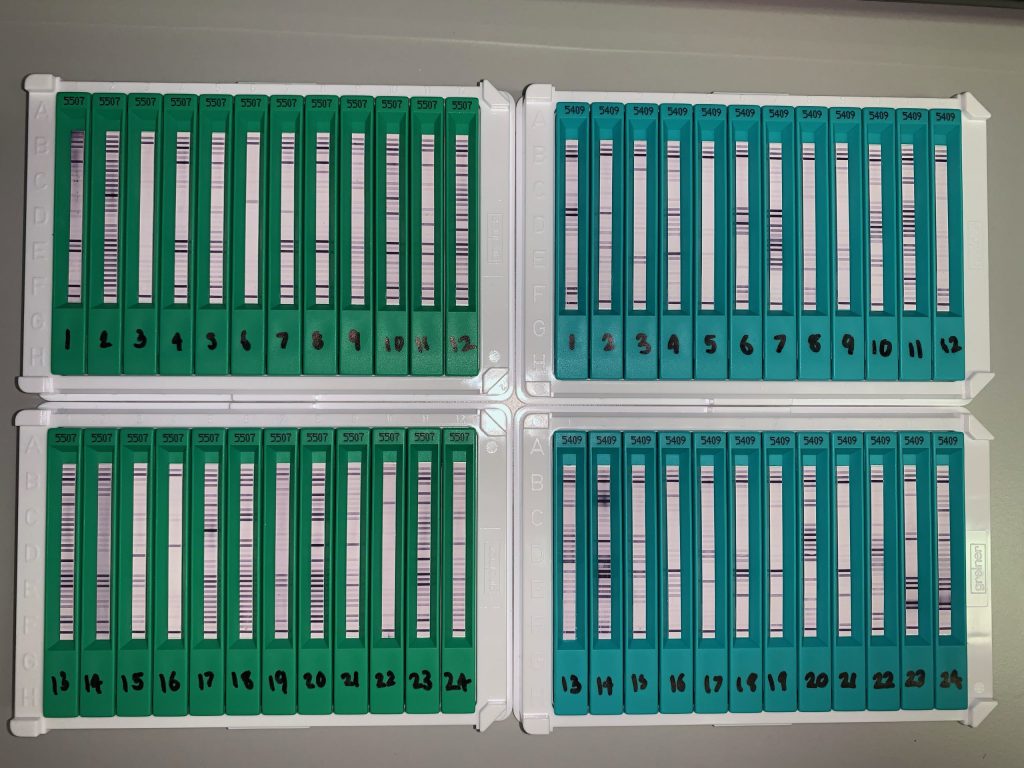 IIFT – Indirect immunofluorescent testing (IIFT) displays anti-nuclear and anti-mitochondrial antibodies (ANA and AMAs) as green fluorescence in HEp-2 (human epithelium), liver, kidney and intestinal tissues. Depending on the pattern and presence of green fluorescence, it can identify autoimmune diseases, whereby self-antibodies incorrectly recognise organelles within the patient's own cells.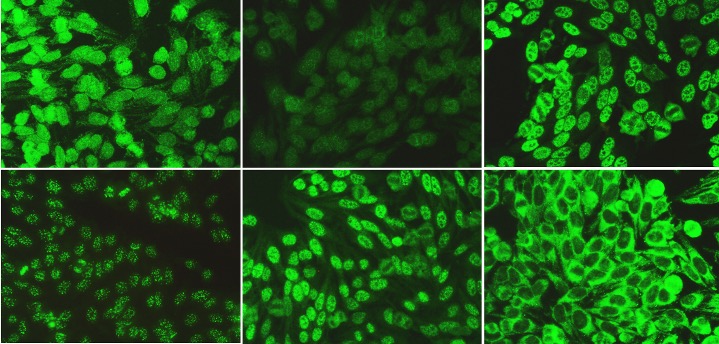 ELISAs – Many IgG and IgM antibody ELISAs are conducted, not just for SARS-CoV-2, but also for many diseases, such as: Toxoplasma gondii, Mycoplasma pneumoniae and Borrelia. They are also important for medical conditions, for example the quantifying of parathyroid hormone (PTH) levels to indicate hyperthyroidism.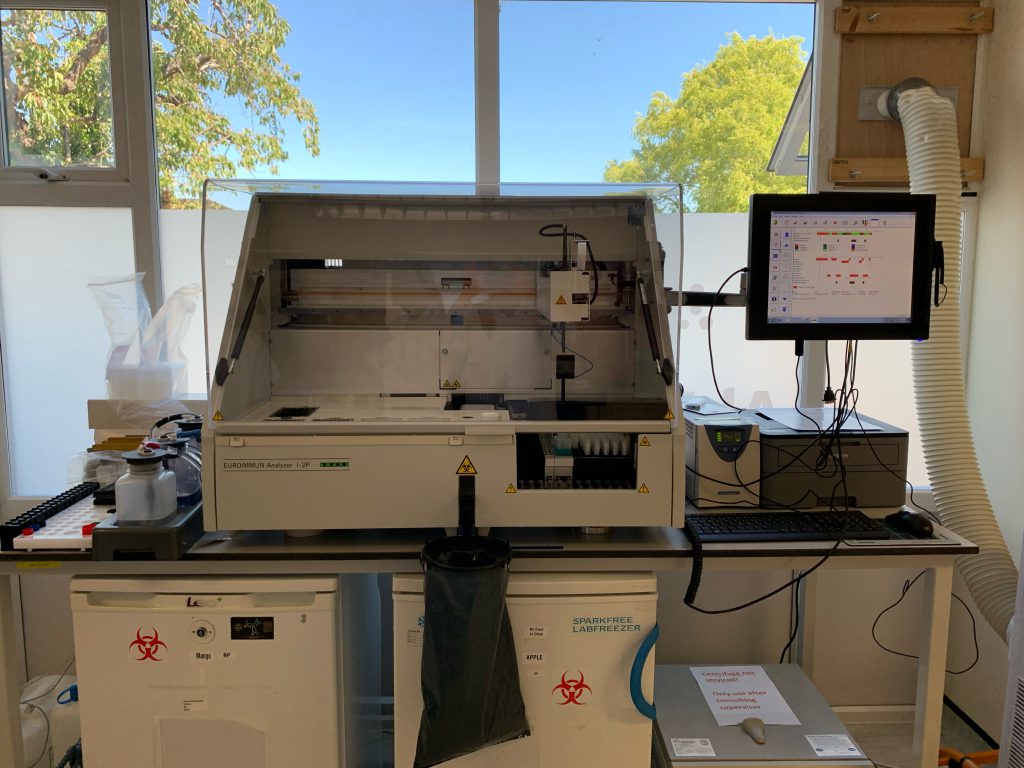 The Outcome
We caught up with Paige to find out more about her experience with AbBaltis, particularly at such a globally critical time. She said:
"My time at AbBaltis was thoroughly enjoyable and extremely valuable to my career as a laboratory scientist. I got to see the business side of science, which is something that was new to me, as I had never worked in industry. Giedre is a fantastic example of an inspirational woman within STEM and I'm now part of  a great network.

I was given Abe the antibody llama (AbBaltis mascot) to accommodate me on my travels as I now complete my PhD. I am lucky enough to be one of the few young scientists who can say I contributed to the Covid-19 pandemic by working with SARS-CoV-2!"
Giedre Brandao, Managing Director at AbBaltis, said:
"We were delighted to host Paige as an intern at AbBaltis.  As SARS-COV-2 spread throughout the world and reached pandemic levels, I saw many businesses back out from providing internships and other engagements.  Our priority is to ensure that our staff members are as safe as possible and even before the lockdowns, we moved most of our office staff to work from home. Hence, we had more space to safely accommodate interns.

Paige has brought lots of enthusiasm, positivity, and insight into our team. It was great to have an "outsider" with ideas and inspiration to improve our processes and procedures while learning about diagnostics and helping the research community with combating COVID-19.  As the pandemic is still ongoing, many businesses are once again hesitant to offer internships. I would urge them to reconsider this and give the internships a go. We will certainly be continuing with our program as I firmly believe such opportunities help companies grow."