Netpark Augmented Reality App
Can the use of an app-based artwork improve mental wellbeing and prolong time spent outdoors?
Arts organisation Metal set out to build an interactive AR-based artwork to be used in NetPark, the world's first Digital Art Park based in Chalkwell Park. The project wanted to explore whether the use of an app would encourage park visitors to spend more time outdoors and explore previously unseen areas of the park. The project also wanted to carry out spectatorship research into how artists and technologists work together.
The Challenge
This project set out to address three challenges:
How and to what extent can digital apps increase the time people spend outdoors? How does using AR change the way we perceive our environment?
Is it possible to develop an AR app with user-generated or user-enhanced content that would gradually develop and encourage repeated use? The apps NetPark currently host are more linear and static in that sense.
Understanding the collaborative process between an artist and technologist. How could the artist, the university and the business narrow the gap between the different ways artists and specialists work?
The Approach
In response to key research questions, the project team are immersed in producing a site-specific, interactive audiovisual installation that explores the human relationship to the natural environment, embodiment and wellbeing.
Metal did a call out to local artists, asking them to come up with a concept for the app and promoting the opportunity to collaborate with a technologist. Joanna Sperryn-Jones, a graduate from one of our EIRA partner universities, Norwich University of the Arts, was successful; her application was very close to what Metal envisioned for this stage of NetPark. Metal and Joanna worked together to develop the concept further to compliment the other NetPark art pieces.
The next step was to connect the artist, the academics and the technologist.
In February 2020, Joanna and Sophia Ppali, PhD research student from the University of Kent , did an initial residency at Metal HQ in Chalkwell Park, working on fusing Joanna's art and Sophia's technical expertise. Since their collaboration, Joanna and Sophia have established 3 stages for the app. Joanna creates bespoke art and Sophia uses her coding expertise to achieve the desired outcome.
How the app works
Part 1 of Reciprocity enables you to choose different locations in the park to learn more about trees and our relationship to them. At each location, you will earn a virtual leaf. You can choose to earn one or several before progressing to the next stage, you can return to stage one at any point to earn more leaves.
Part 2 enables you to add design to your own virtual leaf on your mobile device. You will be led through choosing colours and creating designs that express how you are feeling.
Part 3 you can visit the Fictional Forest to add your leaves to a virtual tree. The Fictional Forest is a multi-sensory virtual place to explore where you can experience other people's artwork leaves alongside your own. The idea is for the forest to become a physical expression of the community's mood.
Joanna and Rosie are working together on writing the narrative for the app. This is something Joanna has not done before but with Rosie's knowledge, they're moving forward to create an all-round engaging experience for app users. In April 2020, the team identified potential test groups: Chalkwell Hall Junior School, Chalkwell Park dog walkers, East15 Production students and Mental Wellbeing class participants from a local community centre.
Following these phases of research and development, the app was due to be tested in May 2020, with any further developments to be carried out over the Summer period. The app was due to be launched during Estuary in September 2020, however due to Covid-19, this had to be postponed and the team are working on a new timeline.
Though development of the app has been paused whilst it cannot be tested in-situ, the team have identified other funding calls to apply for to build on the momentum of the project. If successful, this will enable the project team to create a parallel 100% digital experience, which will allow everyone at home to have access to this art. It will also give people a flavour of what to expect when they can once again come to the park and will be a great prequel.
It has been uplifting to see how the team has pulled together during the pandemic and has concentrated efforts on remoulding activities to ensure the final product can be developed and still have a positive impact on mental health – more important now than ever before.
The Outcome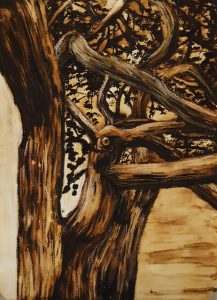 During the collaborative stage between the artist and technologist team, it was discovered that their work approach is very alike. Sophia's digital art background and MA has enabled them to work in very similar ways.
"The project has brought together a super creative and committed team of artists, researchers and organisations working across arts and tech, and the connections and ideas will no doubt continue to develop and grow well beyond the remit of this project." – Rosie Klich, East 15
"We look forward to working with our NetPark Wellbeing groups on building a new AR forest and to be able to see how their experience might help them deal with their individual issues. This is also the first NetPark app that is a collaborative project so it will be very exciting for us to see it grow as visitors to the Park add their own leaves.'' – Michaela Freeman, Metal
This collaboration shows that artist and technologist can work together easily, if their backgrounds and interests align. If the technologist did not have any art background experience it could have been trickier to carry the vision through.
Next Steps
The next steps are adjusting the project timelines using the guidance from the government. The lockdown stage is allowing Sophia to finish the design work on the app, however, it requires subject testing and further refinement before it can be launched.
Prior to this project the artist was exploring the relationship between self and environment, particularly focusing on trees and forests. This has now shifted to explore how AR could encourage users to spend longer outdoors, connect with their environment, and potentially enhance wellbeing. Working in this engaging field has highlighted the value of this project in positively affecting people's health and wellbeing.
The working relationship between the female team has been truly excellent with both minds and ideas contributing. It's also a great example of the power of collaboration and supporting women in STEM careers.