EIRA checks in with Sarah Steed, NUA
As we navigate through the global pandemic, it is more important than ever that we reach out to our network of extended colleagues across the East of England and hear about what they are working on within their institutions. We caught up with Norwich University of the Arts (NUA)'s Director of Innovation and Engagement, Sarah Steed, to gain an insight into how EIRA is benefitting students, staff and the local business community at NUA.
What does it mean to NUA to be part of the EIRA network?
Partnership with other universities and specialist providers in the region is core to NUA's Knowledge Exchange strategy. As a creative specialist with 2200 students in disciplines from Fine Art and Fashion through to areas of economic growth such as Animation and Games Design, NUA is too small to receive government investment funding in its own right. But our community of practice based academics has a lot to offer businesses in the East of England, particularly as we rebuild the economy post Covid.
We have particular expertise in digital communication design, and the creation of engaging assets for use in web-based platforms. We are bigger and stronger in partnership with EIRA than we are alone.
What does NUA bring to the EIRA network?
We are able to partner on many projects – particularly where scientific and technical innovation is not enough, and the way that innovation is communicated is key to its success.
We also have a particular expertise in the gamification of skills development. NUA has developed an award-winning skills building platform, NUA Profile, which has been the basis of the two cohort based internship schemes that have been enabled with EIRA funding. Profile puts gamified engagement at the heart of skills building – it was developed hand in hand with the New Anglia Creative Sector Group, and EIRA funding has enabled us to use the programme to help 30 small businesses to scale up their teams in the last 2 years.
What have we most enjoyed about EIRA?
Our digital design project with North Norfolk's Grey Seal Coffee saw a combined academic and student team develop a core design that has taken the business on a journey from their home in Holt to online sales and distribution in top end retailers in London and the South East.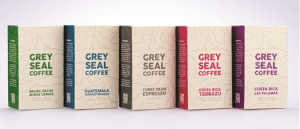 Our work with Mirus Aircraft Seating delivered a range of innovation for them to showcase at the Hamburg Air Show next year, bringing digital textile designs based on the national identity of target airlines, and concepts for the use of internal space in new generation aircraft.
We have also valued the peer support, particularly from lead partners, Essex, as we navigate the new world of KEF and engage our academics in Knowledge Exchange activity – they have been generous with their time!
What's next for NUA and EIRA?
We are embarking now on a fantastic new project with Sutherlands of Portsoy, a salmon smokery in the North East of Scotland. The pandemic has challenged the way that we all work – and although we were in conversation with Sutherlands (which is owned and run from Norfolk) before lockdown, none of us could quite see how to make it work. But constraint is the mother of invention, and we are using the project to model for our Graphics students how they will operate in the professional space using virtual platforms. So far we have worked with the client through Teams, researched Portsoy – including watching the 2016 remake of Whisky Galore! Next week we will tour the Smokery virtually, courtesy of the client and an ipad, whilst sampling the product in Norwich.
We expect that the result of the project will be a digital design and strategy for the business that will unlock new markets and consumers, and benefit both Norwich and Portsoy.
Thanks Sarah! If you are a business in the Norwich area (or beyond!) interested in collaborating with NUA, please contact the team via: [email protected]
Photo credit for image of Sarah Steed: Jeanette Bolton Martin