EIRA Quick Guide: Enabling Research Communication
Introduction
This guide will show you the simple steps you can take to make your research more accessible for a business audience. It will cover:
Understanding your audience
Branding guidelines
Identifying promotional opportunities
Translating your research for the media
Building your online presence
---
Understanding your audience
Before you begin communicating your research, it's always a good idea to connect with your institution's communications team and / or business development professionals first. They will have tips, tricks and guidance on offer to ensure you comply with your institution's policies and crucially, make sure you don't give away any top secret IP!
Once you've been given the green light to communicate your research to a wider audience, here are some key points to consider…
Knowing your audience is vital in making your research accessible to a wide range of people. By taking the time to fully understand who your audience is at the beginning, you can make key decisions on what information to include, the best way to present your information and the kind of tone you want to set. So, the first question you need to ask yourself is 'who am I communicating to?'
Your audience could consist of one or more of these groups:
Colleagues & other academics
Potential funders (i.e. grant bodies, potential investors)
Institution stakeholders
Policymakers
Current students
Prospective students
Alumni
External businesses and organisations
Press
To engage a business audience effectively, it is best to adopt a professional tone and be mindful of any technical terms or complex scientific names. If you believe your business audience will know these terms, then it is fine to use them, but keep in mind that sometimes the people making key decisions on your project may not be those you are liaising with, so try to keep complex terms brief and summarise where possible.
Once you've established who your audience is and their knowledge of the subject in hand, consider the purpose of the communication. Is it to attract funding or partnership? If so, then your writing should reflect this, making convincing arguments concisely and making sure to include the relevant supporting information to help your audience reach a decision. You can read our other guides, Enabling Industry Funding and Enabling Business Engagement for further guidance in these areas.
---
Branding Guidelines
Your institution will have a set of guidelines for you to adhere to that ensures external-facing work looks consistent and has the same tone of voice. Consistency is important because it helps brands stay recognised in an increasingly competitive market. Your institution's brand communicates who they are, what they believe and what they do, so it's important that you familiarise yourself with it.
A strong brand adds value. If your institution's brand is cohesive, this increases perceived value. To this end, most institutions produce a branding toolkit (or several different ones aimed at different audiences) to help staff understand how to communicate with external stakeholders. Speak with your Communications team to get a copy if you need to send a formal letter, produce student / business facing work or if you're writing something for the web.
There may be procedures to follow regarding internal review and approval of the use of your institution's branding, so be sure that you are also aware of how to get any approval before disseminating the material, as the rules may differ for different types of communication.
---
Translating your research for the media
What is news?
It might sound obvious, but news is something that is new or current and it must mean something to people. It's the things that people either want or need to know about. People might want to know the latest entertainment and sport news. But, you could argue, they NEED to know about what's going on in public health, education or disasters and conflicts.
To make a good news story, your research should try and cover at least 3 of these criteria: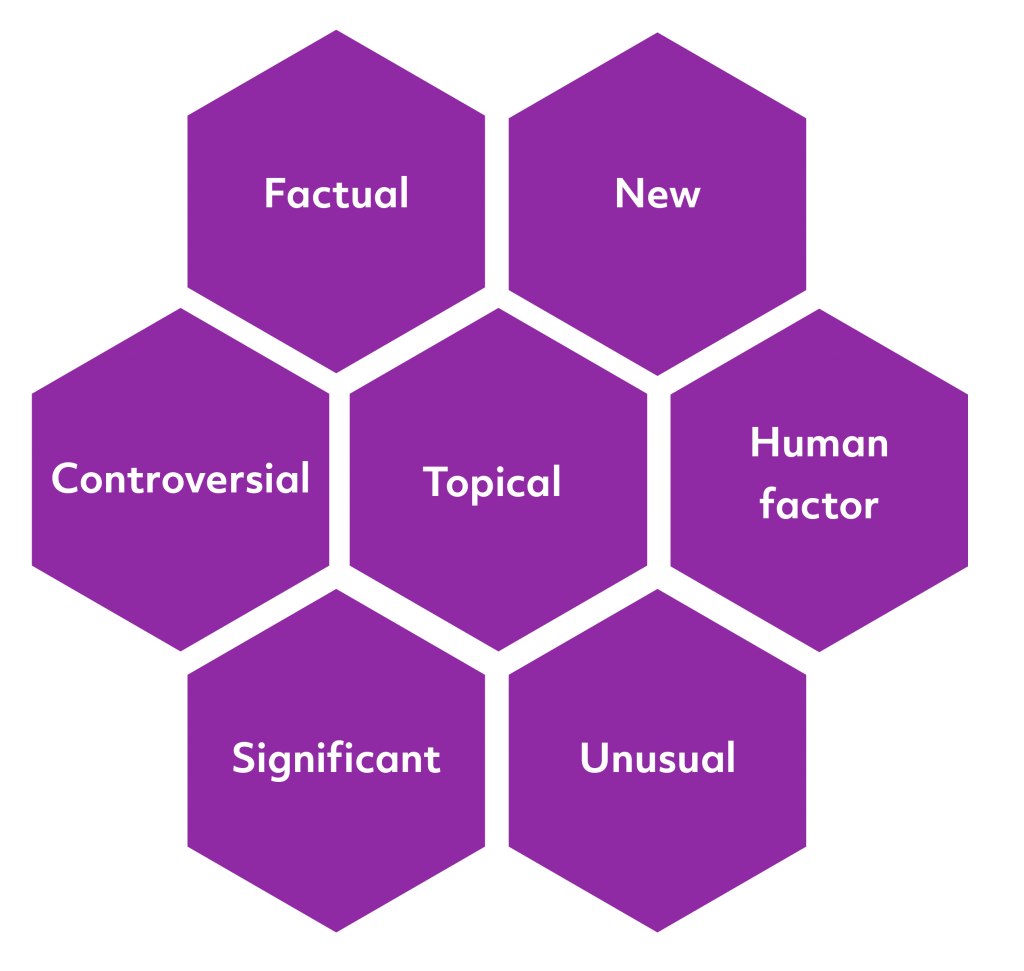 Research, new developments and innovation make for fantastic news stories because they tick a lot of the criteria above. Research is often new, contains elements of fact and is likely to be significant.
Media engagement can mean several things from reactively providing expert comment on news stories that is relevant to your research interest, to proactively using the media to promote your research findings. Raising your public profile through the media can also improve your visibility with the potential to help increase citations and act as a pathway to impact.
These approaches could apply to print journalism, radio or television interviews at a regional, national or even international level. Engaging with the media helps you reach new audiences and has the potential to help you inform public opinion, inspiring others to take an interest in your subject (and institution!). If you are invited to be interviewed by a media outlet, such as a local newspaper or major TV show, it's really important to inform your institution beforehand. They may have procedures in place you need to be aware of. If there is any risk that the topic you're being invited to comment on is controversial, or perhaps has the potential to be a breaking news story, then your Communications team will need to know so they can handle PR and press queries.
If your research is picked up by a media outlet, you will likely be asked either directly, or through your institution to summarise your work. The first paragraph is the most important. It must grab the reader's attention and hook them into the story. Try to cover 'the five Ws': who, what, where, when, why, and sometimes how within the first few sentences. To keep your story engaging, keep your writing style conversational and approachable, and make sure you back up your facts. This can be as simple as providing links to other news articles, research papers or abstracts.
Stick to 600-800 words unless you're asked for more, and finish by summarising your main point, or raise a question about what happens next.
---
What does success look like?
Growing your online presence helps you connect with many people quickly, easily and with little to no cost. Here are some benefits of why using social media is essential in helping to build your online presence:
It can help increase your visibility within your field
Encourage people to read your publications
Keep up to date developments
Build wider professional networks
Collaborate with groups outside the institution
Social networking channels such as LinkedIn and Twitter allow you to highlight your research areas of interest, update others on your research progress and connect with others who can help you grow your following. It needn't take a long time to maintain, but if you do set up a profile on a social media channel, take care to keep your profile up to date and be mindful of your institution's policies on social networking.
Again, keep in mind that any announcements on social media about inventions can limit the ability to file patents, so be mindful about what you are disclosing.
Ensure your presence online is updated with relevant work and contact details feature prominently. This could include any blogs you contribute to, your staff profile on your institution's website or even your own website. If you do have your own website or blog, take a look at optimising your web page for search engines so that your audience can find you and your work quickly.
In your profile, try to keep language simple and to the point. Share what you are doing with your research and why you are working on this topic rather than others. This will help to create a narrative about yourself that will engage audiences.
Top Tips for Twitter
Why use Twitter?
• Research has indicated a positive correlation between citation and exposure on social media
• Its fast-moving nature makes it great place to see breaking news as it happens
Your Profile
• Describe your area of expertise and interests so people know what you tweet about
• Pin one tweet to the top of your page so that it's always at top – use this function to promote your latest publication
What you need to know
• Twitter moves fast, tweet and tweet again to ensure your audience reads what you have to say
• Use hashtags (#) to categorise your tweets and join debates
What should you tweet about?
• You are positioning yourself as an expert – stick to your subject and don't dilute your message
• When sharing the work of others, always include their handles
Writing a top tweet
• Write as if you were writing a headline, grab people's attention
• Ask questions to encourage interaction and discussion
Remember it's public
• Don't share anything confidential or sensitive
• Don't publish anything you wouldn't want students or colleagues to see
Top Tips for Linkedin
Why use Linkedin?
• It gives you the ability to position yourself as an expert in front of a business audience
• You can be more in-depth than Twitter, higher word counts and article functions
Your Profile
• See Linkedin as a digital CV – an opportunity for your expertise to shine online
• Your Linkedin profile can be a good tool to monitor and manage your personal online brand
What you need to know
• Having a Linkedin profile helps build trust with businesses as they can evidence where you have added value
• Use Linkedin as a research tool – e.g. for an upcoming business meeting
What should you post about?
• Articles, presentations, your latest research, pictures, videos – this platform is more versatile and allows you to upload different media forms
• Share posts from your University and partner institutions
Writing a top post
• Include a video – they earn an average of three time the engagement of text posts
• Ask questions to encourage interaction and discussion
Who to connect with
• Friends, colleagues, other researchers in your field
• Businesses you want to work with or who you are currently working with
---
Summary
In this guide we've explored how important it is:
To know your audience
Being aware of your institution's branding guidelines
Policies and top tips for social media
And what makes a great news story
We hope this guide has given you a good foundation from which to begin communicating your research to a wider audience. If you can take one crucial piece of information away from this guide, it would be that nobody is expecting you to do this alone! Your institution's communications team have a wealth of expertise and resources to help raise your academic profile and spread the word about your research, so do reach out to them and get the conversation going.
The University of Essex has published a series of blogs for researcher development that go into further detail on a range of research communication topics, including being interviewed by broadcast media and writing for The Conversation. Find out more here: https://www.essex.ac.uk/blog/categories/researcher-development
---