EIRA Quick Guide: Enabling Commercialisation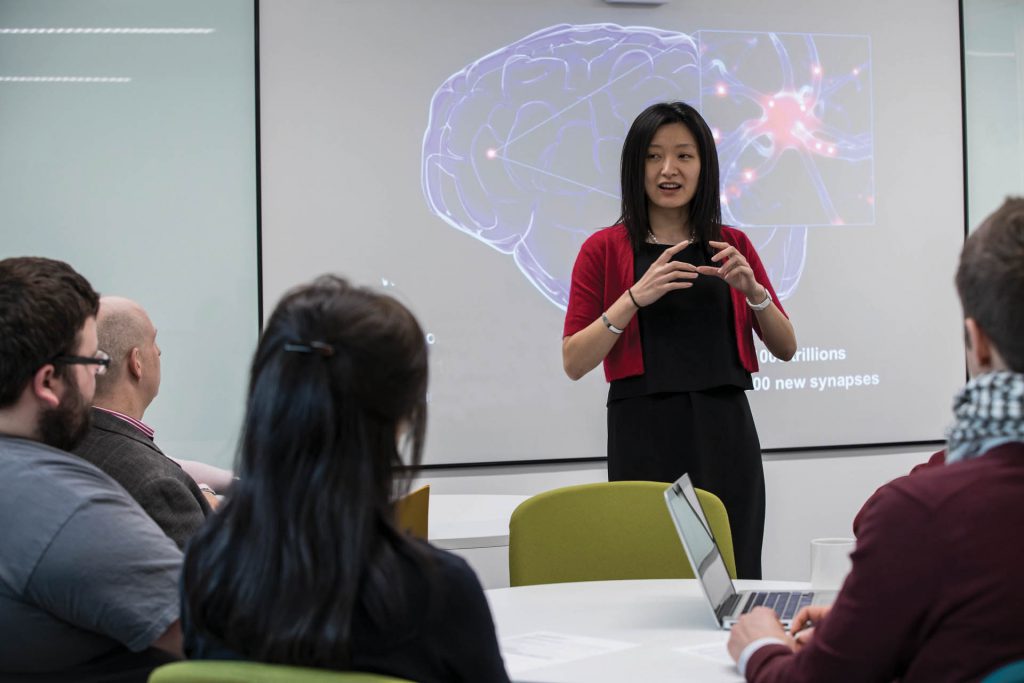 Introduction
For universities, commercialisation is the process of turning research findings into a product or service that can bring about economic and societal benefits. Commercialisation can not only generate income for further research, but can also help to accelerate impact. Academics may spend months or years on their research, and commercialisation is often the end goal. Developing a product, new technology or service often involves working with an industry partner. This partnership, often referred to as 'Knowledge Exchange' involves all parties working together on a collaborative research project for mutual benefit.
However, knowledge exchange, and the subsequent routes to commercialisation can sometimes face issues with intellectual property and rights. It's important that academics and knowledge exchange professionals understand commercialisation terms, the general processes involved and where to go for more help and guidance. We'll cover all this and more in the Enabling Commercialisation guide.
---
IPR and Patent review process
What is IPR?
IPR stands for Intellectual Property Rights and can refer to a number of intangible assets. All of the following can be bought, sold and licensed, just like other forms of property:
Application or Registered Rights
A patent protects new inventions, and involves an application process to determine that it is new. Patents give the owner the right to prevent others from making, using or selling the invention without their permission. An application process is used so that patents can be assessed against the criteria below. A patentable invention must be:
New
Innovative
Better or cheaper or different to anything done before
Have an industrial application
A trademark protects any sign or symbol that allows your customers to tell you apart from your competitors. You can register a name, logo, slogan, domain name, shape, colour or sound. Some basics to know about trademarks:
A trademark gives your business a badge of identity
It prevents parties taking 'goodwill' from another product
It should be distinctive, not descriptive
The registered trademark symbol is ® , but there are also some rights for unregistered trademarks TM
A registered design protects the visual appearance of a product or item and gives you exclusive rights for that appearance to the extent that, if necessary, there is a legal right to stop an unauthorised party from producing or using your design (IPO, 2020). Some basic fundamentals for you to know about design rights include:
Design rights generally refer to artistic designs or appearances, which can include things such as tattoos. A design is not registrable if it is offensive or is solely dictated by the product's function
Other
Copyright subsists in original works such as music, literature, artistic works, etc. Some basics to know about copyright:
Copyright is an unregistered right that protects original work and applies to any medium e.g. literary, artistic, musical works or computer code
A copyright protected work may have other IP rights subsisting in it
It allows the owner to prevent others from copying a work without permission
In general, it lasts for the life of the creator plus 70 years (some differences for musical works and broadcasts)
Copyright will subsist in all original presentations, lecture notes and manuscripts that you author
You can assert that works have copyright subsisting in them by using the © symbol and dating them
Copyright is infringed if someone uses the whole or a substantial part of a copyright protected work without the permission of the owner
Copyright is outlined and protected through the Copyright, Designs & Patents Act 1988.
Know-how and trade secrets are information which are not necessarily protected by patents, copyright or trademarks, but have some commercial value. Examples of know-how and trade secrets include – customer lists, databases, in-house methods of doing things and general expertise in a subject. Knowhow is usually protected by the use of confidentiality and non-disclosure agreements. An example of a famous piece of know-how/ trade secret is the recipe for Coca-Cola. In universities, know-how and expertise can be licensed using consultancy licences.
---
Why are patents important?
Patents are important because they give a competitive market position to prevent others from making or using your invention. A patent protects any product, design or process that meets certain specifications according to its originality, practicality and utility. In most cases, a patent can protect an invention for up to 20 years, with the time period starting as soon as the patent application is filed.
Patents protect inventions
Protecting your invention allows the owner to prevent others from using the invention. A patent is a monoploy granted by the state (meaning a country) to the owner of an invention.
Patents protect inventions for 20 years from the date of filing. Effectively, the owner can prevent others from exploiting their invention, in return for telling everyone about their invention and how to 'build' it
Effectively the owner gets to exclude others from exploitation of their invention in return for
1) making the invention and
2) disclosing the invention
For an invention to be patentable it needs to be
Inventive – "Not obvious to a person skilled in the art"
Novel – Not part of the "prior-art" (i.e. anything disclosed anywhere!)
Capable of industrial application – These are judged at the date of filing the application EPC Article 52(1); Patents Act 1977 Section 1(1).
Patents & IPR can help protect your product from competion in the market
In Biotech & Pharma, drug development costs an average $2.6 Bn*. A patent enables costs to be recovered when products are marketed. Therefore, intellectual property rights provide a competitive advantage
Proprietary drugs are branded products such as Viagra that are (or were) patent-protected and can be sold at a higher price. Generic drugs are based on drugs that are no longer protected under patent, and can therefore be 'copied' and sold for a lower price
IPR forms an integral part of commercial projects. New inventions must not be disclosed in any way before the patent application is filed, so it is important to keep your work confidential until it is assessed for IP protection
Patent Application Process
The following timeline is an example only, and the process duration can vary significantly.
Outline of key dates when applying for patent protection: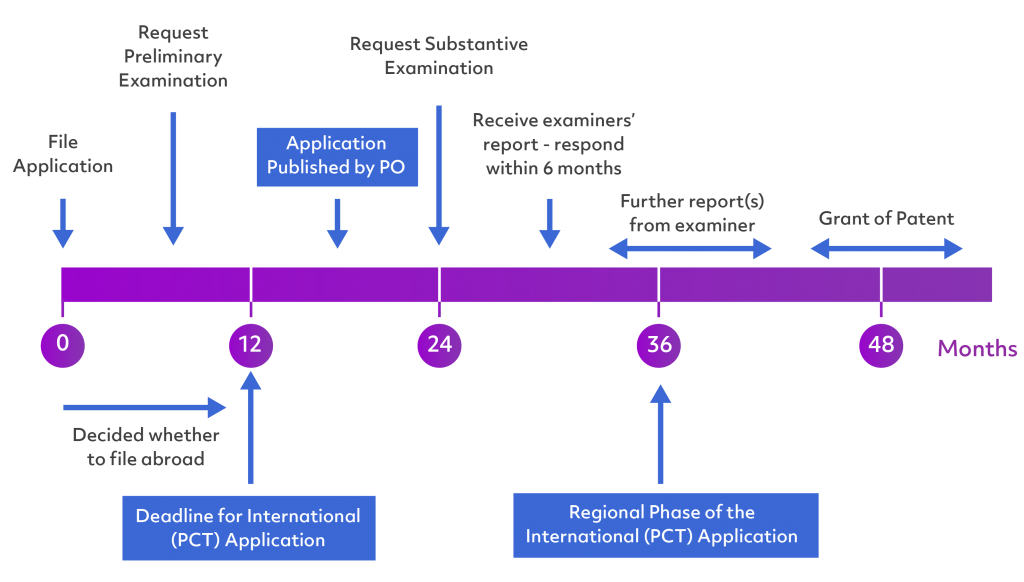 Basic Structure of Patent Applications
Specifications
Drawings
Claims
Important note – patent applications are examined, but not peer reviewed! Claims define the protection and the specification outlines the parameters of the invention. Drawings enable a visual representation.
Some important things to consider about the patent application process include:
Once filed, each patent gets a priority date. This allows any subsequent applications of the patent family to use the file date of the first filing.
This is known as 'Claiming priority' – a system that allows a subsequent application to use the filing date of the first filing or submission.
This priority date is important as anything prior to it will count as prior art that can be taken into account during patent examination.
After the patent is filed in one region, a PCT application can be filed 12 months later. This allows the applicant to file the same patent in other countries/regions simultaneously by saving time and costs.
After PCT filing, applicants get 18 months to select which regions/countries they want to protect the technology in.
You cannot change anything in the patent specification once the PCT deadline has passed.
Commercial Transactions
Patents are "intangible assets" not because they are based upon ideas or inventions, but because they are not a physical substance. Patents can be commercialised or monetised in a number of different ways, for example by entering into a license agreement.
License agreements are not made equal but they usually provide the right for another party to use the IPR…. Different types of access to the IPR can be granted – exclusive license, sole license or non-exclusive license. Licenses can also have rights to sub-license. Alternatively, the rights to a patent can be sold for a fee to another organisation.
---
Summary
In this guide we have explored some of the key differences between routes to commercialisation, including patents and IPR.
Confidentiality is key for novelty. Make sure appropriate non-disclosure agreements are in place before any confidential information is exchanged with external organisations i.e. suppliers and collaborators.
It's important to plan ahead: think about whether projects may produce commercially valuable IPR so that the necessary steps can be taken when the data / results are generated.
We've learnt about the patent application process and the basic structure of patent applications.
Most importantly, make contact with the person in your organisation who deals with knowledge transfer and IPR. It's a tricky process and one you shouldn't be working through alone! Grant applications often include a section about IP in the application form and KE teams can help help with those too.
---
---
Enabling Commercialisation Quiz
---
---
---
---